---
| Top | Master Plan Contents |
Chapter 6: Funding and Costs
PUBLIC/PRIVATE PARTNERSHIPS
Many public/private partnerships exist and have proven to be invaluable in restoring, managing, and maintaining public space, particularly public parks. The Central Park Conservancy is the most well-known and complex of these. Many others, such as the Prospect Park Alliance, the Louisville Olmsted Parks Conservancy, and the Riverside Park Fund, have developed partnerships between public and private sectors. Each has had to respond to specific opportunities and constraints. Cadwalader park will have to do the same. Before any public/private partnership can succeed, three important considerations muct be adderessed:
There must be a willingness on the part of the public sector to accept a partner. For there to be a meaningful role for the private sector, there must be some sharing of power.


Leadership is important for dev eloping and sustaining momentum.


An understanding of the nature and level of private support that can be expected must be developed.
The demographic information from the 1990 census indicates that there are limited fundraising opportunities in the West Ward, where the park is situated. There are, however, numerous opportunities for private fundraising within the Trenton area and beyond. Any private sector effort should seek to consolidate fundraising responsibilities within one organization, rather than through many small organizations. Currently there are a number of organizations in Trenton raising private money who could possibly broaden their mission to provide the leadership for Cadwalader park.
The following are overall recommendations for developing and implementing a public/private partnership for Cadwalader Park.
Identify and sustain the Cadwalader Park Advisory Committee as the interim leadership organization.


Assess the feasibility of establishing partnerships between the City of Trenton and private sector entities.


Assess the feasibility of an existing or new not-for-profit organization assuming a leaership role for Cadwalader Park.


Identify and/or establish the not-for-profit organization.


Seek a memorandum of understanding, or other binding agreement, between the City of Trenton and the Cadwalader Park not-for-profit entity.


Establish a strategic fundraising and implementation plan.


Investigate the potential funding sources for specific rojects (capital, programs, maintenance).


Hire a qualified grants person, paid by the City, to seek and find public and private funding for the park.
---
| Top | Master Plan Contents |
FUNDING SOURCES
Potential funding for the park will have to come from a variety of sources. Existing, established not-for-profit organizations should seek donations for capital and special projects. In addition, the City of Trenton must also continue to support the park, with both capital and expense budgets, and not assume that any private sector effort will relieve the City of its responsibilities. In fact, for any private sector effort to succeed, the City must maintain its funding commitment to both capital and operating budgets for the park.
Possible funding sources for Cadwalader Park projects are:
Federal (Transportation Equity Act TEA 21, National Park Service);


State of New Jersey - Green Acres and new Open Space Bond Referendum; and


City of Trenton - capital and annual expense budgets
Private Sector
Corporations


Individuals - in addition to Trenton residents, there may be opportunities beyond Trenton, perhaps Princeton, if a suitable project and donors can be found; and


Foundations - Lila Wallace Reader's Digest Fund (urban parks projects with a community focus), Doris Duke Foundation, Commonwealth Fund (at present targeting health care issues), and Getty Grant Program.
Direct Revenue
There may be some opportunities for income generation in Cadwalader Park. The introduction of food concessions at Ellarslie and two mobile park-carts may serve as the focus of an income-generating plan. Other options for consideration are as follows:
Canoe or paddle boat rental;


Events at the new picnic pavillion such as weddings, corporate events, and other special events;


Tennis court fees; and


Summer programs and camps.
---
| Top | Master Plan Contents |
COST ESTIMATES
The costs provided in Tables 8-11 have been developed at a planning level for the purposes of fundraising, capital budget development, and projecting park operating expenses for the revitalized park. The overall estimates reflect the budget for parkwide projects such as utilities, building renovation, and new programs. Specific projects, such as the Parkside entrancew restoration, are budgeted separately so that they could be developed as demonstration projects with a mix of public and private funds. The park maintenance budget, which reflects operating costs, is shown separately frm the captal budget.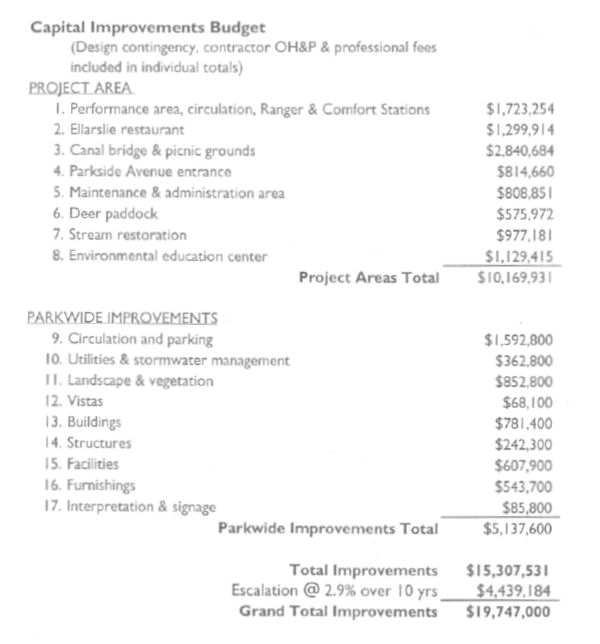 Table 8 Capital Improvements Budget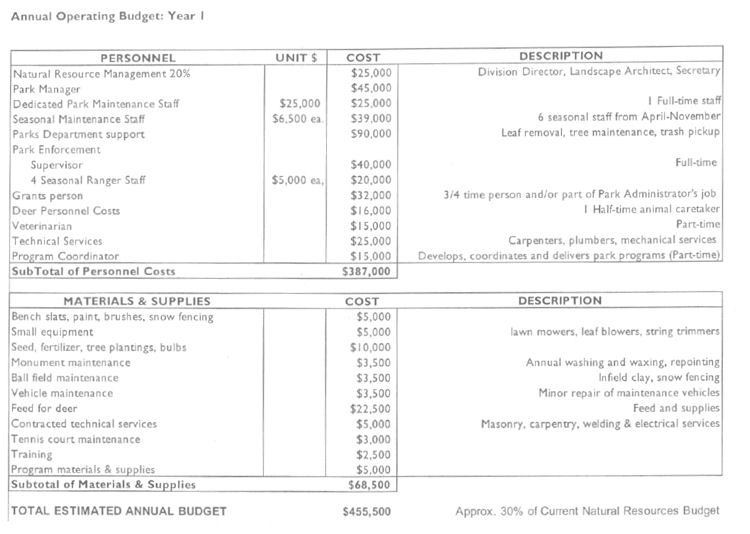 Table 9 Annual Operating Budget, Year 1
(direct salary only not including fringe benefits)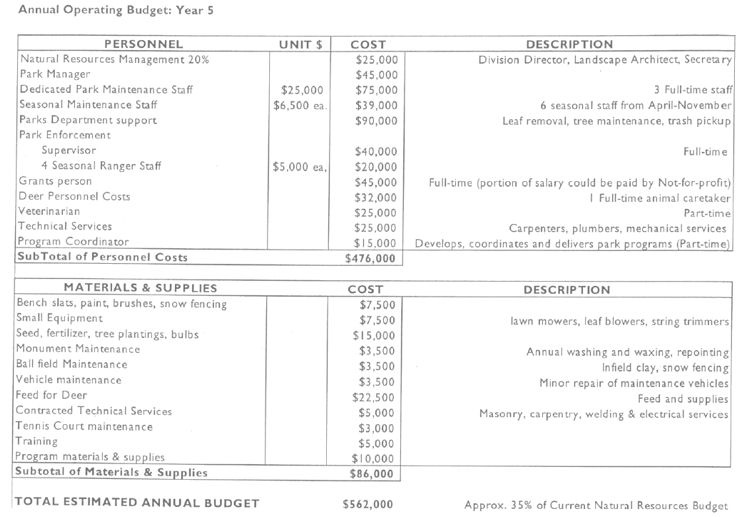 Table 10 Annual Operating Budget, Year 5
(costs are 1999 dollars; not including escalation to 5th year)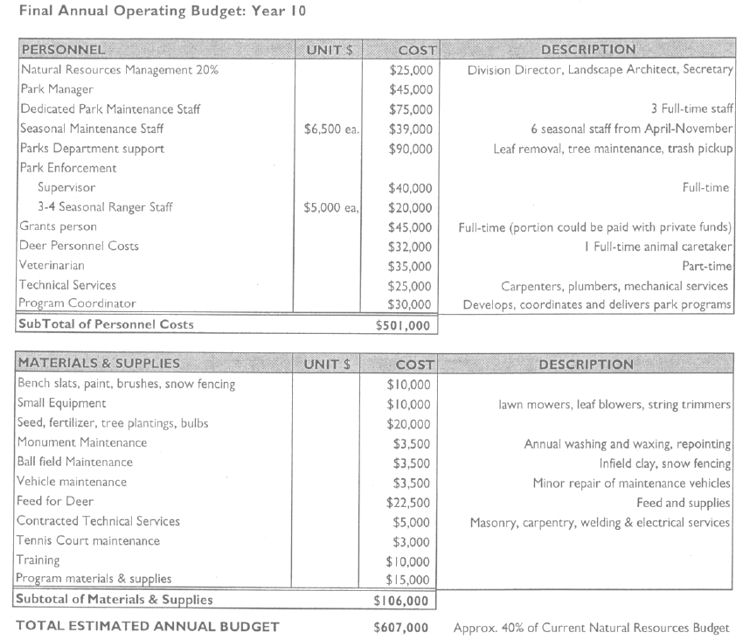 Table 11 Annual Operaing Budget, Year 10
(costs are 1999 dollars; not including escalation to 10th year)